FREQUENTLY ASKED QUESTIONS.
Firewater Acupuncture Healing Arts.
Whether your are on the road to recovery or simply maintaining a healthy balance, Acupuncutre and Chinese Medicine can assist you right now.
Every Journey starts with a simple step.
Schedule Now
Address: 1750 Barbara Lane, Encinitas, CA 92024
Phone: 760) 652-9854
Email: firewateracu@gmail.com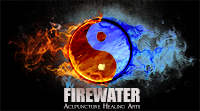 ACUPUNCTURE WORKS.  ACUPUNCTURE HEALS.
"After a year of suffering through a nagging shoulder injury which would not fully heal I turned to William for acupuncture treatment. Through a series of acupuncture treatments my range of motion and strength have been restored. In addition to acupuncture, William is a wealth of knowledge on balancing yourself and attaining a higher overall well-being. "

− Hugh Martin, Encinitas
"I am jealous of you if you are near enough William to book a session with him. He is a man of great integrity, passion and purpose. It also helps that he is filled with humor and compassion."

− Adrian Danzig, Chicago
"William is an incredible gifted and intuitive acupuncturist. He truly believes in stepping back and allowing the body to heal itself, and he will convince you that your body has healing powers you never thought possible!"

− Christina S, San Diego
"I loved the community experience. William moved effortlessly around the room floating like a butterfly and stinging like a bee (that's a good thing with acupuncture). I'll mos def be back!!"

− Moe C, San Diego
"William Potter is a wise, powerful and dynamic healer. With numerous modalities to choose from, he combines knowledge, experience and discernement to identify the root underlying cause that will most significantly shift your system. I have sought his skill on numerous occaisions over the past year for physical, emotional and life issues-- with amzing results after each."

− Johnny Blackburn, Evolving Life
TAI CHI
Tai chi is often described as "meditation in motion," but it might as well be called "medication in motion." There is growing evidence that this mind-body practice, which originated in China as a martial art, has value in treating or preventing many health problems, and you can get started even if you aren't in top shape or the best of health. This gentle form of exercise can prevent or ease many ills of aging and could be the perfect activity for the rest of your life.
QIGONG
Qi Gong (Chinese Energy Work) is one of the most powerful practices to create and maintain Radiant Health and peace in mind and body. Qi Gong is for everyone, and many health care professionals are recommending it to patients as a complimentary alternative medicine. Learn more about practicing Qi Gong with us, and how practicing can help you to circulate your own energy, cleanse your body, and self-heal.
CHINESE HERBAL CONSULTATION
The right Herbal formula can enhance your quality of life! If you have a body, then herbs can benefit you. Chinese herbs and herbal formulas have been used for thousands of years and are successful at treating the root cause of sickness in the body, not just the symptoms. They make take a few weeks to produce visible improvements, but these improvements are long-term because they strengthen the body so it can naturally heal itself. Call or email today to schedule a consultation with our herbalist, William Potter, L.Ac.